Succulents provide you with an easy and fulfilling hobby. These plants are very forgiving when it comes to extreme conditions and sometimes even the occasional neglect.
They are also eye-catching and can liven up your space and make the air your breathe cleaner, whether you put them outside with your bigger plants or inside your home in cute little pots.
You might feel horrified at the thought of buying succulents online and then seeing them wilted or damaged when you unbox them.
That's not impossible because there really are horror stories about succulents arriving dried brown, frozen, or not looking anything like the picture. While it's convenient and options are endless, it's not like visiting your local garden center.
Thankfully, there are online retailers that you can trust. These sellers know what they are doing and can ship succulents with zero or minimal damage.
Reviewers and previous customers will attest that they not only received their plants in good condition but that they can also feel the love that went into growing and shipping them.
What are the best succulent sellers online?
Succulent Market
Succulents Box
Harddy
Fairy Blooms
Leaf & Clay
The Succulent Source
SMG Succulents
Arid Lands Greenhouses
Mountain Crest Gardens
Amazon
Etsy
Read on as we scrutinize these plant peddlers and see why they're the best in the area.
We'd also look into other alternatives and answer some questions you might have about online succulent sellers. So let us start with: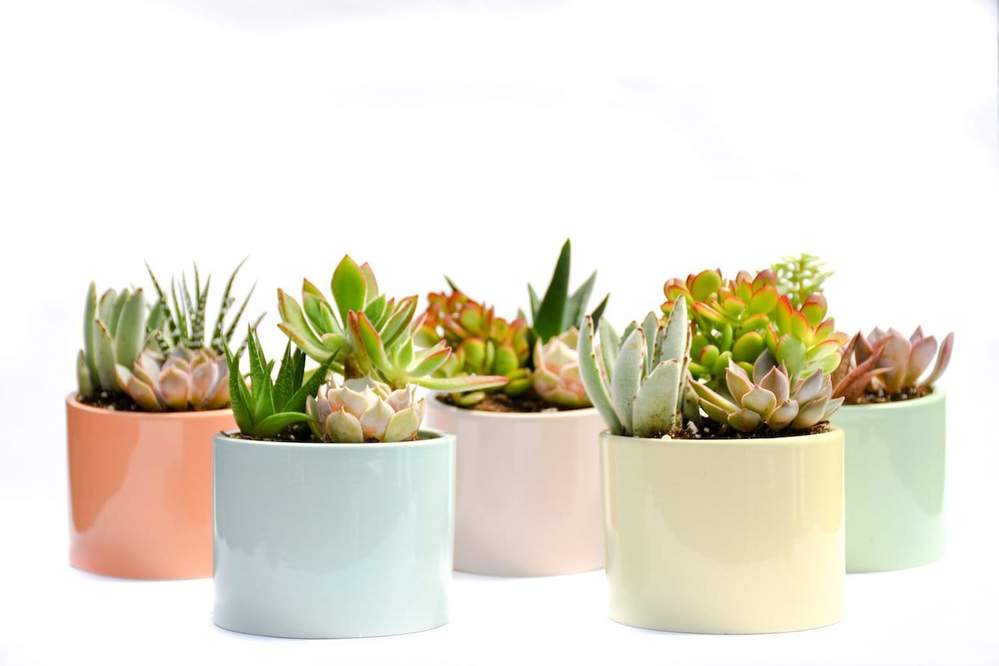 Succulent Market gives you a chance to beautify your indoor space as well as your garden with potted succulents, cuttings, or live plants. You can also order in bulk, which makes them the perfect supplier for your wedding and party giveaways.
They have a wide variety of reasonably priced succulents for you to choose from. As of this writing, the site has 178 items in its shop, comprising of live succulents, succulent cuttings, potted succulents, and cacti. They are also able to fulfill bulk orders at wholesale succulents prices.
This seller specializes in different kinds of succulents, both for indoor and outdoor. Their succulents include:
Echeveria
Haworthia
Crassula
Aeonium
Cactus
Kalanchoe
Sedum
Their prices are reasonable, with individual plants ranging from $6 to $9, cuttings from $13 to $80, collections starting from $16 to 80, and dish gardens at $20. Furthermore, they have potted succulents that factor in the cost of the pot and the succulent in one package, costing around $12 to $16 each.
The pricing is based on the product and the quantity you order. Bulk pricing puts the price of each live plant at less than $2, while cuttings can cost as low as 80 cents each.
Not a Big Box Retailer
This is a family-run business that started growing succulents in the 1960s. The owners started selling their succulents in bulk online in 2018, but have since accepted orders for individual plants.
…But Has What You're Looking For
More than that, the site gives you access to at least 100 varieties of succulents. You can probably find what you're looking for in their inventory, with a few exceptions.
What's more, you can order big volumes at low prices. Just getting started with your succulents collection? You can order a few individual plants.
They Know What They're Doing
The family behind this beautiful Succulent Market has been growing succulents for around five decades, so they know what they're doing. They grow these plants in their own greenhouses and they grow them to be tough and to have the best and most vibrant colors.
Shipping Problems Are Minimized
One of the biggest worries for customers when ordering succulents online is the possibility of these plants getting damaged while in transit. Succulent Market takes zealous care in ensuring that their succulents stay safe and intact during shipment.
Your orders are going to be wrapped with care and put inside a sturdy box. Crinkle paper is added to lessen the movement inside the box and reduce any possible damage to your plants.
Pots are also generously covered in bubble wrap to prevent breakage.
Easy Replacement
If your succulents are damaged by the time they arrive, all you need to do is e-mail them the pictures of the damaged pots or plants, along with the order number. They will send you a replacement for these.
Big and Affordable
You can see the prices of their succulents and you may think that they are small. But customers are always pleasantly surprised to see that the plants are actually bigger than they had expected.
What You Should Know
There are some things that you should know about Succulent Market before you buy from them. First, they don't accept returns. So if you change your mind or don't like the succulent that was sent to you, you cannot send it back. Second, if you're ordering the six-, 12-, 64-pack, and other bulk orders, you cannot choose which succulents they include. They will choose for you. However, they do promise a wide assortment of succulents.
Some people also complain about the shipping fee. Succulent Market offers free shipping for orders that reach $65. But for those who are ordering less than that, they might find their costs double due to shipping costs. An $18 order will have a shipping fee of $16, according to one reviewer.
With the size, weight, and perishable nature of the succulents, however, you can expect shipping costs to be expensive, as the retailer explained. Lastly, they only ship to locations within the United States.
Bottom Line
With Succulent Market, you have access to more than 100 varieties of succulents and cacti. You can purchase live plants and cuttings, whether individually or as part of a collection. Pricing is very reasonable considering that these plants are big: with most of them measuring around four inches in diameter. What's more, you can save more when you buy in bulk with their collection packages.
Shipping may be a bit steep because of the size and weight of the plants, but the good news is that they deliver your orders free if you reach $65.
However, if you live outside of the US, or if you are looking to grow a succulent from seeds, then you will need to look elsewhere.
Pros
Wide variety of succulents on sale
Free shipping for orders more than $65
Fast and easy customer service
Value for money
Offers a 10 percent discount on our first order
Cons
No returns
You cannot choose if you're buying in bulk
Shipping costs can easily double the price you pay
Limited within the United States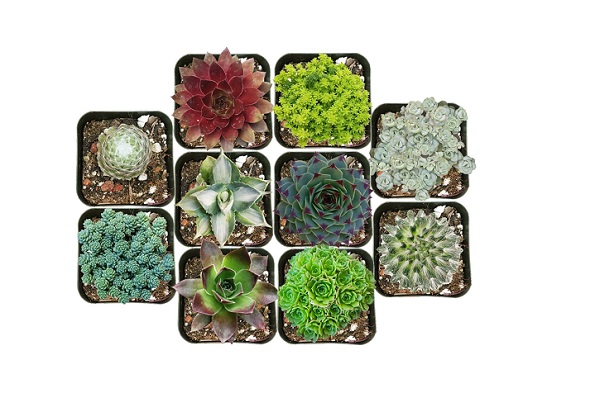 Succulents Box is better known for its subscription boxes that allow you to receive a certain number of succulents per month (great as a gift idea or for enthusiasts). But they do have an online shop where you can buy all the succulents you need from their one-time plant store.
Succulents Box has the common cacti and succulents that you already know: aeonium, aloe, Haworthia, Echeveria, crassula, kalanchoe, sedum, sempervivum, and Senecio, as well as rare and unusual varieties such as the Albuca spiralis, Graptoveria, variegated ghost plant, dinosaur back plant, among others.
They also have a wide variety of air plants. Succulents Box also makes it easier for you to find just what you need even when you don't know what you like just yet. They categorize their products according to themes. On top of packs and kits, they also tell you the best:
Pet-friendly cacti and succulents
Indoor succulents
Hanging or trailing succulents
Mini succulents
Rosette succulents
Outdoor succulents
Crested, rare, or variegated succulents
Weirdo succulents
Colorful succulents
For instance, if you would like to add pops of color to your collection, you can just go straight to the appropriate category, Colorful Succulents, and find all of the products they have with different hues. Or if you have pets, you can keep them safe with their selection of pet-friendly plants.
Subscription Boxes
People who like to be surprised can join this retailer's subscription boxes. You can choose to receive a certain number of air plants or succulents per month. Subscription rates are as follows
One air plant per month
$6 per month
$17 every three months
$34 every six months
$68 every 12 months
One air plant and one succulent per month
$11 per month
$31.25 every three months
$62.50 every six months
$125 every 12 months
One succulent per month
$5 per month
$14.25 every three months
$28.50 every six months
$57 every 12 months
Two succulents per month
$10 per month
$28.50 every three months
$57 every six months
$114 every 12 months
Three succulents per month
$5 per month
$42.75 every three months
$85.50 every six months
$171 every 12 months
Four succulents per month
$20 per month
$57 every three months
$114 every six months
$228 every 12 months
Each plant will be shipped in a plastic pot. However, if you like a clay pot, Succulent Box also has subscriptions for that.
Accessories
Aside from succulents, the site also sells a wide variety of pots, beginners kits, care guides, and heat pads. They also sell succulents-related merchandise such as greeting cards, stickers, and pens, among other things.
Shipping
Succulents Box takes great care in packing and shipping their plants. Each succulent is packed in a plastic pot with soil. The retailer takes time to bubble wrap the pot, put tissue paper around the plant and on top of the soil, and then put it all together in a rigid box. Bigger plants at four inches in diameter and up are shipped bare root.
Succulents Box will refund you if you received damaged plants. However, there are instances when they will not issue refunds. These are cases that are not covered by the site's quality guarantee:
Wilted or dried bottom part, which is natural for succulents
Potting soil sits on top of the leaves
Broken, wilted, or missing leaves if there are at least 10 more that remain on the plant
Minor differences in shape and color when compared to the photograph on the site
Cold damage to plants ordered without a heat pack
Missing packages delivered to the shipping address you specified
Bottom Line
Succulents Box has everything for everyone. You can buy these succulents for yourself or gift it to a friend. Beginners would want to check out the beginner kits and kids can also have kid-friendly kits.
However, Succulents Box excels in their subscription boxes where you receive anywhere from two to four succulents every month. If that's not for you, you can choose from their wide variety of succulents, cacti, and air plants. Plus, buy the accessories that can help you with your growing.
Those who are looking for giveaways, gifts, and souvenirs will love how Succulents Box packages their plants. On top of the beautiful and healthy succulents, these also come in pretty and sturdy boxes.
Pros
More than 200 varieties of plants available
A good selection of pots and accessories
Several rare and unique succulents on sale
Attractive prices
Best shipping practices
Refunds for damaged plants covered by their quality assurance
Up to 15 percent discount on your orders with the right codes
Cons
Certain reviews report that some subscription boxes never arrived, but the company has responded to these customers.
The subscription boxes might not be a good deal, considering that they are shipped in terracotta pots, and not that much cheaper than ordering plants individually.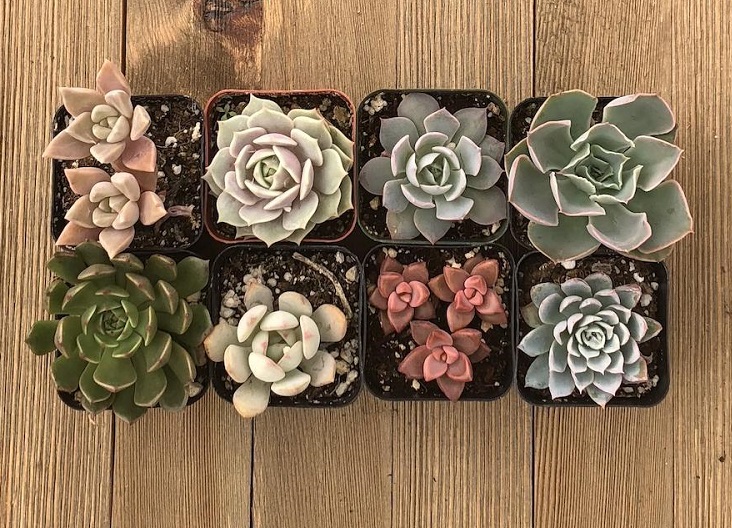 Harddy is a marketplace for cacti and succulents and they source their products from participating nurseries. Harddy can be your source for wholesale plants. You can get packs of up to 100 cuttings or 105 plants. For instance, they offer this pack with 105 assorted plants for $99.99. They also have a pack of 100 assorted cuttings for only $111.
Select Your Favorite Colors
You can also choose by color. Harddy's search filters allow you to limit the plants according to the colors that they have, which includes pink, purple, red, blue, gray, cream, and bronze, among others. If you're having a hard time deciding or if you want to limit your choices to a particular color, you can get the rainbow succulent collection, which sells for $16 for four plants or 32 plants for $99.
Pick by Hardiness Zone
If you want to make sure that the succulents you order will survive the climate conditions in your area, you can choose by hardiness zone.
What You Would Like About Harddy
Harddy makes it easier for beginners to choose plants that can readily survive in their area. On top of being able to limit search results by hardiness zones, they also have succulents that can survive frost during the colder months, such as this sedum confusum.
The site also allows you to choose the plants you want to include with their build-your-own packs. However, these products are limited to echeverias, crassulas, and aeoniums and may not always be available.
What You Should Know
Harddy ships their smaller plants in pots and soil. You get the nursery pot that the succulent was grown in. And they do ship on a Friday, so there may be a chance that your orders are stuck in some warehouse over the weekend.
Bigger plants that are at least four inches in diameter, as well as cuttings, are shipped bare root. The marketplace does accept returns, but will only refund your money if the plants arrive in good condition.
The Bottom Line
You will want to get your hands on the succulents and cacti that Harddy sells. They work with a variety of nurseries, which guarantees a wide selection of plants. But they keep their prices down.
Pros
Accepts returns
Excellent customer service with several points of contact: chat, e-mail, or phone
Excellent prices for greenhouse and nursery-grown plants
Cons
Refunds are only processed if the returned plants arrive to them in good condition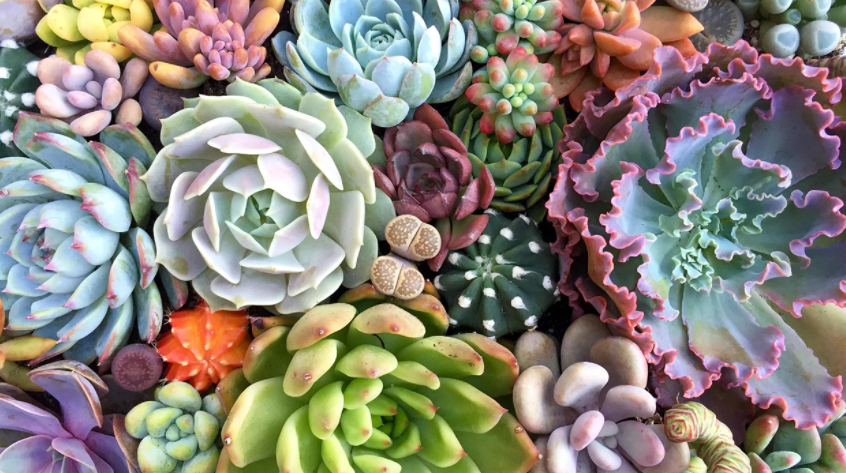 Fairy Blooms is a California-based retailer that currently has more than 335,000 followers on Instagram.
One of the things that set Fairy Blooms apart from other succulents sellers is their collection of house plants. These hardy greenies can easily make your home become more alive and cleanse the air inside the house. House plants that they have for sale range from $10 to $40 per pot.
Fairy Blooms also offers larger plants at six to eight inches in diameter, as well as low light plants and rare succulents. You can also check out their pixie collection, which gives you everything you need to have a fairy garden made with succulents.
BBB Accredited
Fairy Blooms has an A rating from the Better Business Bureau. There are, however, some complaints about missing items and wrong credit card charges. There were also gripes about the company not responding to customers.
The Bottom Line
Fairy Blooms is known for both their miniature pixie succulents and their large eight-inch ones. They are moderately priced, but if you're looking for a fairly common cactus or succulent, you might find that these are cheaper elsewhere.
Pros
Free shipping for orders of at least $75
Offers rare, miniature, and extra-large succulents
Sells house plants
Cons
There are some complaints about the after-sales service
More expensive than other retailers, especially on the more common varieties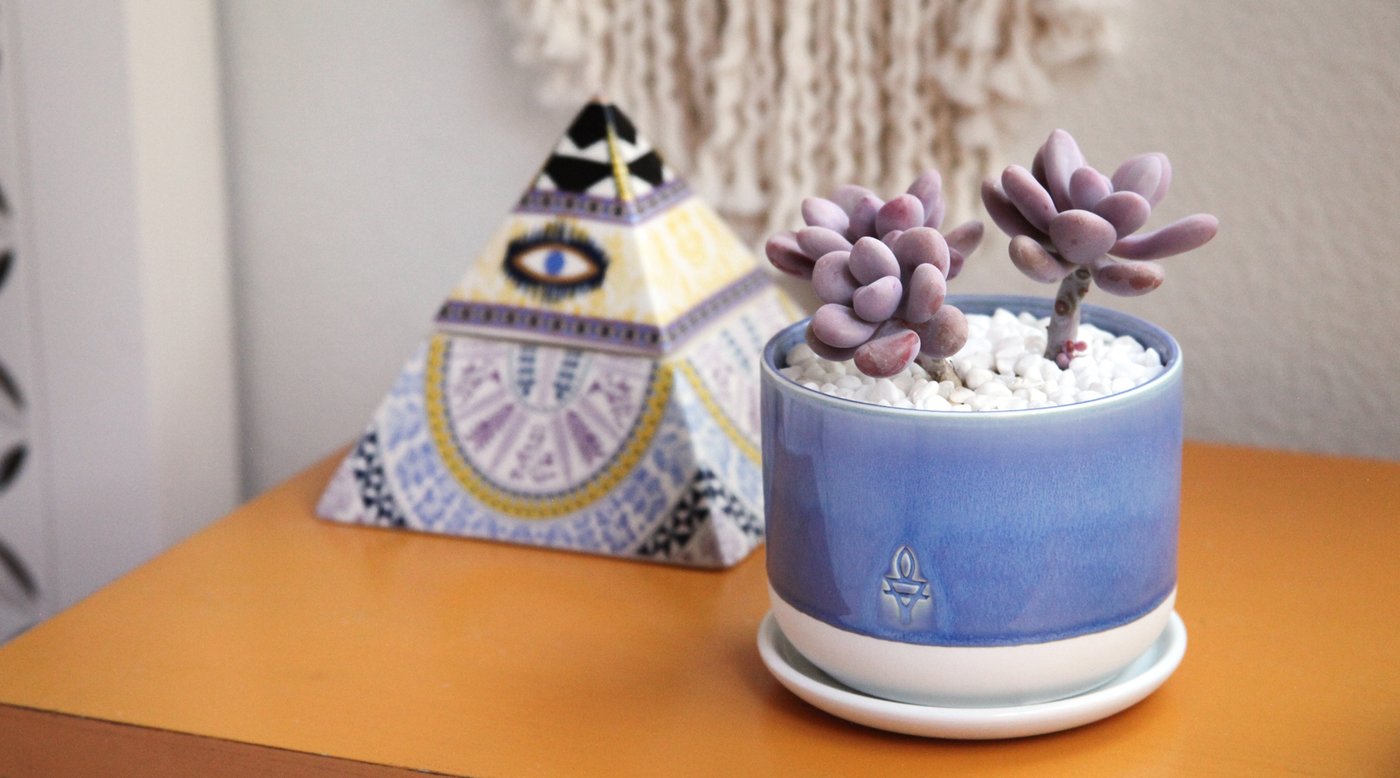 Leaf & Clay started as an Instagram page that grew in popularity and now has at least 174,000 followers. The Leaf & Clay store went online-only in 2016. And the store now includes the blog, which also serves as a definitive resource on succulents, cacti, and how to grow them.
Leaf & Clay sells:
Finding what you need is one search away. But if you're not sure what you're looking for, there are several search filters that you can use. For instance, you can choose to see the plants by size. Leaf & Clay sells plants that are two, two and a half, four, five, or six inches (50.8, 63.5, 101.6, 127, or 152.4 millimeters) in diameter.
You can also choose your plants by color, including red, green, teal, purple, pink, gray, brown, among other colors. And if you like to grow plants that none of your friends have, you can head on straight to the rare cultivars they have available.
Subscription Pack
If you're the type who likes getting a surprise mailed to you, Leaf & Clay offers a subscription box service where they deliver three succulents to you every month. Subscription rates for the Plant Mail Club are as follows:
What You Would Like
Leaf & Clay also offers themed packs, such as the Weirdo Pack that includes the strange and one-of-a-kind succulents. This pack comes in two sizes: six- and 12-pack.
These packs are priced from $36 for six 2.5-inch plants to $65 for 12 plants of the same size. They also ship your plants bare root. Each plant is wrapped in tissue paper and put into boxes that are filled with shredded paper. The boxes are marked fragile.
What You Should Know Before Ordering
Leaf & Clay does not give out refunds or accept returns for live plants. In their returns policy, they write that they will only issue store credit if your plants are damaged during transit.
The Bottom Line
Leaf & Clay makes it easy for you to choose the succulents and cacti that will match your aesthetics. The search filters, for example, make it easy to see what are available in different sizes. And if you are going for a certain color or theme, it's easy to search for the perfect plants as well.
They have an excellent selection of cactus, succulents, and packs, and you can find some bigger ones that are snugly fit into pots that measure five to six inches. Pricing can be a bit high, but there are average-priced plants that you can get.
What's more, they also have an excellent choice of planters and pots that you can buy.
Lead & Clay Advantages
Offers a 15 percent discount on your first order when you subscribe to their newsletter.
Free shipping for orders above $59
Replaces damaged plants
The subscription box gives you three succulents every month
Has a blog section that offers information and growing tips for your plants
Has ready stocked rare succulents for those who collect them
Leaf & Clay Disadvantages
Shipping limited to the US
Some varieties are more expensive than in other marketplaces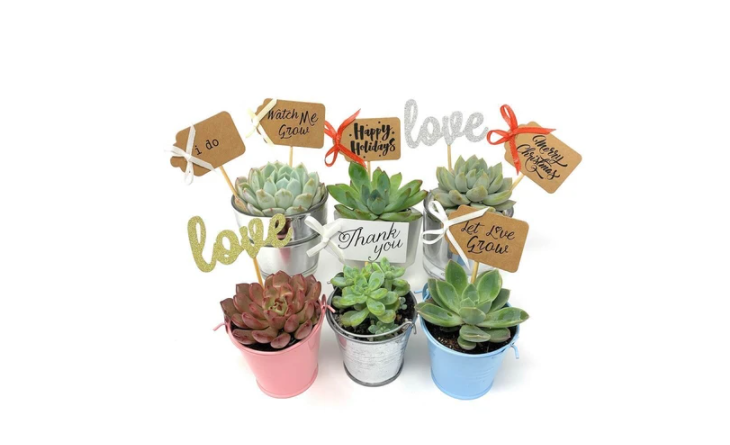 The Succulent Source has been selling for 15 years and claims to send thousands of succulents every week. They specialize in providing succulents for events with a pricing of at least $2 for each plant.
You can have your fill of succulents and cacti, or mix them in your order. These affordable wedding and party giveaways will make your event extra special.
What's more, if you're planning to use succulents for either decorations or boutonniere, they also that those. Cuttings are cheaper.
You can also choose a customized product. For instance, if you're thinking about giving succulents to your customers, you can arrange for:
Ceramic pots
Wooden cubes
Wooden planters
Gift boxes
This site also sells air plants. And if you're tired of retailers who send you something totally different from the ones they pictured on their site, you can check out the Exact collection.
Succulent Source's Exact series will send you the cactus or succulent that is pictured. You get the exact one, so no surprises there.
Accessories
The Succulent Source also has a range of accessories for sale. You can get a variety of pots and planters, including glass votives, metal pails, and terracotta pots. If you're looking for a cheaper alternative, they also sell used plastic containers that are priced as low at 10 cents.
Plus, they also sell favor tags, perlite, fairy garden items, potting gravel, and others.
Pricing
The Succulent Source sells some of the most affordable two-inch plants, with prices that start at $2 for collections and $3 for individual pots.
Subscription Boxes
This online store also offers a subscription box that you can pay monthly, or prepay for three, six, or 12 months. You will get five varieties of succulents each month.
The Bottom Line
The Succulent Source is one of the go-to retailers for people who are looking for wholesale and affordable succulents. Most of their products are smaller (two to 2.5 inches), but they do have bigger items available.
They have an excellent knowledge base and help site that answers your questions about care, shipping, ordering, and other stuff.
If you don't have time to work on your giveaways, the Succulent Source can do them for you. You can have a customized gift sent to the recipient, and even create bouquets, crowns, and corsages for bridal parties, among others.
The Succulent Source is proud to be family-run, and people remark positively about how flexible they can be with your requests and orders. But they are professionals and they give out great customer service.
The Succulent Source Advantages
Perfect for events
Offers free shipping on some products
More than 200 varieties of cacti, succulents, and air plants available.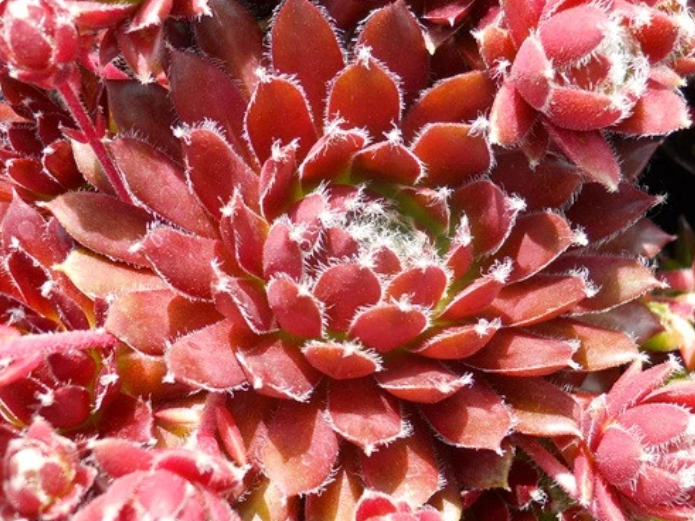 SMG Succulents started from an extensive plant collection in the 1950s. Today, amidst changes in the owners, they focus on just succulents.
SMG Succulents is one of the few online retailers that have a wide variety of succulents and can ship worldwide. They specialize in sempervivum, and a visit to their site will allow you to tick off a lot of items on your wish list.
But, SMG Succulents also sell quite a number of succulents belonging to other species, such as:
Echeveria
Gasteria
Haworthia
Jovibarba
Bottom Line
SMG Succulents is the go-to online site for those who want to improve their sempervivum collections. They offer some of the rarest hybrids at very low prices.
The retailer will send you different types of plants depending on its size to make sure that you get your money's worth. For instance, for sempervivum, you will get either a huge rosette with two or smaller plants. For smaller rosettes, you receive a clump of these miniature varieties.
If you don't mind the minimalist website and you enjoy looking at pages and pages of succulents, you can easily while away an hour or two on this site. You'd need time to go over their listings as they do not have a good search engine on the site.
SMG can also ship succulents to anywhere in the world except for Canada and Korea.
Pros
Ships worldwide
For those in the US, they can get free shipping on orders that reach the $35 minimum
Cons
It's difficult to search through their catalog where sold out items are included in the listings
Very basic website
No guarantees on international orders
Some listings do not have images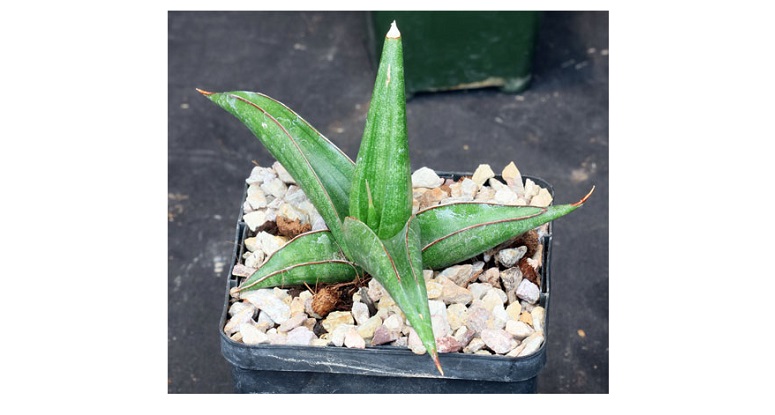 If you are looking for a different variety, an extraordinary succulent, or a unique cactus, then Arid Lands Greenhouses should be your first destination.
Arid Lands Greenhouses sells a wide variety of cacti and succulents. Each one has different hybrids. For example, the site sells more than 190 hybrids of haworthia and more than 650 types of aloe.
Shipping
Arid Lands Greenhouses ship your orders via USPS and shipping fees start from $9 to around $75, depending on the total value of your orders. If you received damaged plants, or if you're not happy with them for some reason, you can send these back to them and you will get a refund.
The Bottom Line
Arid Lands Greenhouses gives you a chance to own a succulent or cacti that your friends might not have. If you are a serious collector or if you like unique hybrids, then this retailer might have what you're looking for.
Pros
Get some of the rarest hybrids
Extensive collection of succulents and cacti
Cons
The website is rather dull and doesn't have too much information
Other Succulent Online Retailers to Check
Aside from these eight retailers that we recommend, there are other sites that you should check when you're on the lookout for that those perfect succulent plants. These are: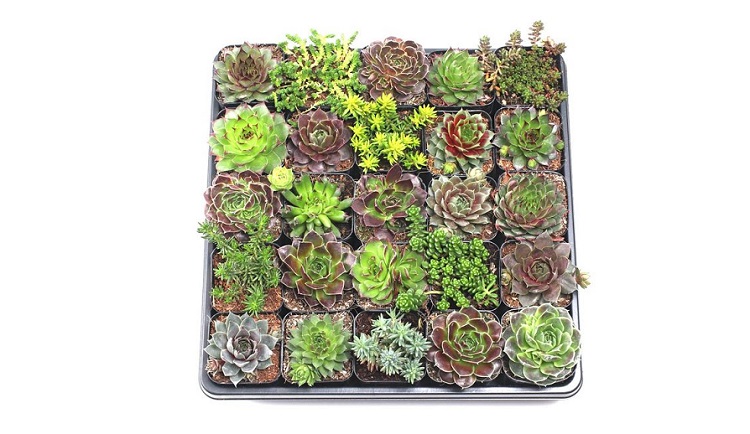 If you're new to growing succulents and you have no idea which ones you'd like, Mountain Crest Garden can help you. Not only do they have an extensive collection of succulents and cacti, but they also take time to curate and categorize their products.
A quick look at their categories will show you which succulents can serve as ground cover, which can be housed indoors, and which ones thrive well as hanging plants, among others. With reasonable prices and discounts when you buy in bulk, as well as a subscription service, you should consider visiting this site.
If you have Amazon Prime, then you might want to think about ordering your succulents from Amazon. Prime membership allows you to get free one- or two-day shipping.
If you don't have a Prime membership, some sellers offer free shipping. However, you might need to comply with a minimum order amount before you can get it.
More than that, you can enjoy the buyer protection that Amazon is known for. Amazon also has a lot of selections out there and it's easy to search for succulents that you want.
Of course, you should read the reviews first before ordering to avoid any hassles.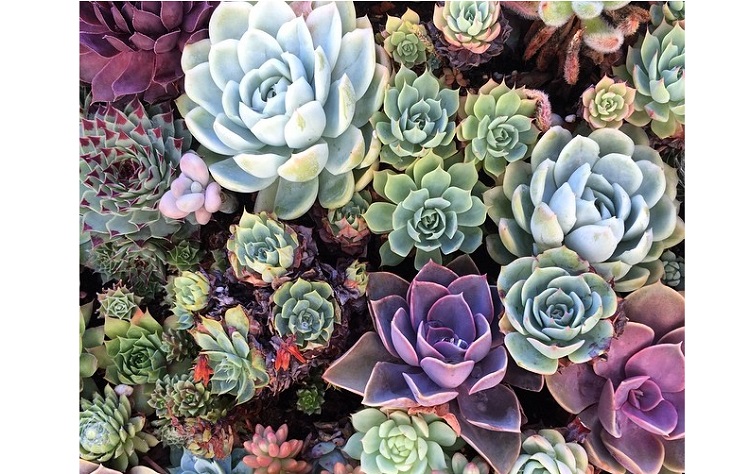 While it will take some looking at different shops on Etsy, it might well worth your time. Some of the shops that you can look at include:
The best thing about Etsy is that you have a wide variety of plants to choose from, and you can even buy succulent seeds, which is perfect for those who want to try growing them from scratch.
FAQs on Buying Succulents Online
How do you decide on who to trust when it comes to buying succulents online?
When deciding whether to buy from an online succulents seller, you should first look at how healthy and how big these plants are. The quality of the plant they ship should be at the top of your list of things to check. Aside from the variety and affordability of an online seller's offerings, what you should pay attention to is how they ship the succulents. Handled improperly, it's easy to damage succulents.
Depending on the size of the succulents and your seller's preferences, your orders may be sent to you bare root or in pots. Both methods are safe for your succulents, granting that the plants are securely wrapped.
With potted succulents with soil, there should be bubble wrap around the pots and tissue paper to keep the soil in place. Your succulents should be in a sturdy box and movements of the plants inside it should be minimized to prevent damage.
If you are shipping during the colder winter months, you should buy a heat pack for your succulents. Most sellers will not include a heat pack and your orders run the risk of dying because of frost. It also helps to order on a Monday to avoid having your plants stuck in a warehouse over the weekend. Some sellers do ship out late in the week so your succulents take longer to get to you.
Another concern about shipping is how much it costs. There are times when shipping fees will be equal or greater than your plants. To avoid this, look for sellers that offer free shipping. Further, you should check the seller's return and refund policies. You should be able to get a replacement or a refund for any succulent you ordered that are damaged in transit.
Why do most online sellers ship only within the United States?
The United States Postal Service has some restrictions and prohibitions when it comes to shipping plants outside the country. Simply put, most online sellers do not have the necessary documents to ship plants out of the country.
Others simply want to play it safe and avoid the risk of having your orders quarantined or confiscated.
Can you safely order plants online?
Ordering plants online comes with its own risks. There are several websites that are not reliable, leading you to be disheartened to receive succulents that are not healthy or not in good condition. You can also fall victim to scams.
To be safer, you should only buy from reputable sites and sellers. Read up on the reviews from previous customers.
The good news is that while succulents may suffer from some damage when it is shipped, these plants can bounce back in no time if you plant and water them immediately.
Don't Be Afraid to Order Your Succulents Online with the Best Sellers!
There are just a lot of excellent succulent sellers that can help you find the plants you want to grow, and even complete your collection. We selected the best ones according to the variety of succulents that they offer, as well as their customer service, prices, and shipping practices.
If you like affordable succulents or perhaps get some help with your wedding and other events, you cannot go wrong with The Succulent Source. Friendly and flexible, they specifically offer gift boxes that they send.
On the lookout for something unique? You have a range of suppliers to check, but some of the best will be Leaf & Clay, Succulents Box, and Arid Lands Greenhouses. If you want to add big succulents to your cutesy collection, you can go to Succulent Market or Fairy Blooms.
If succulents are not enough, Fairy Blooms also sells houseplants. Meanwhile, Harddy makes it easy for beginners to find the best cacti and succulents depending on where they live. Of course, for international buyers, you have SMG Succulents.
Aside from these retailers, you can also check out the sellers and shops on Etsy and Amazon. Just be sure to check their star ratings and reviews from other buyers.