If you are looking for a unique way to decorate your home or just want something different for your garden space, maybe it's time to try some of the best black succulent varieties.
There are many types of succulents out there, but these take up space that eclectic gardeners and fans of uncommon fashion are sure to flock to. Just take a gander at the beauty that each exhibits and no matter what your level of gardening expertise is, you will absolutely have to have one in your home.
Aeonium Arboreum 'Zwartkop'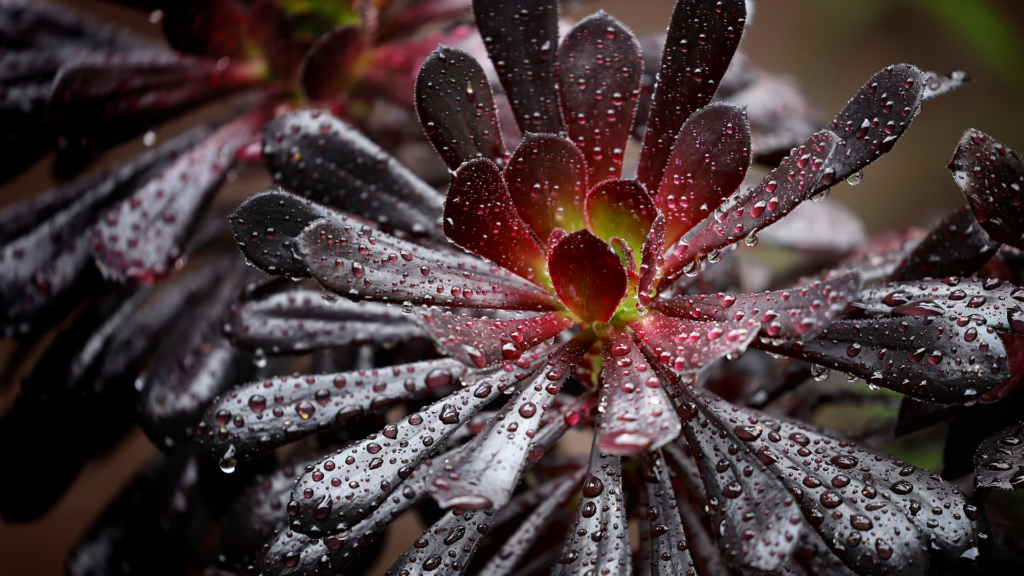 This particular succulent has features that look more like a rose than a succulent, hence its other name, Black Rose Aeonium. With its dark purple-black foliage and capability to bloom yellow flowers, the Zwartkop succulent is a showstopper.
Growing Tips:
This succulent thrives in coarse, well-drained soil. It can grow in full sun near the coast, but in partial sun to shade in inland regions. If grown in USDA hardiness zones 9 to 11, the Zwartkop can survive outdoors all year round. It does require that it be brought indoors when temperatures dip below 28 degrees Fahrenheit.
Interesting Fact(s):
The Aeonium Arboreum 'Zwartkop' is originally from the Canary Islands in the Atlantic Ocean. Its name, Zwartkop is from Dutch and means "blackhead".
Pros:
Tolerates drought
Tolerates full sun when well-established along a coastal region
Tolerates cold temperatures as low as 28 degrees Fahrenheit
Blooms star-shaped yellow flowers
Resistant to deer
It is not toxic
Cons:
Dies after it blooms
Cannot survive outdoors all year unless it is planted in USDA hardiness zones 9 to 11
Echinopsis Ancistrophora 'Arachnacantha'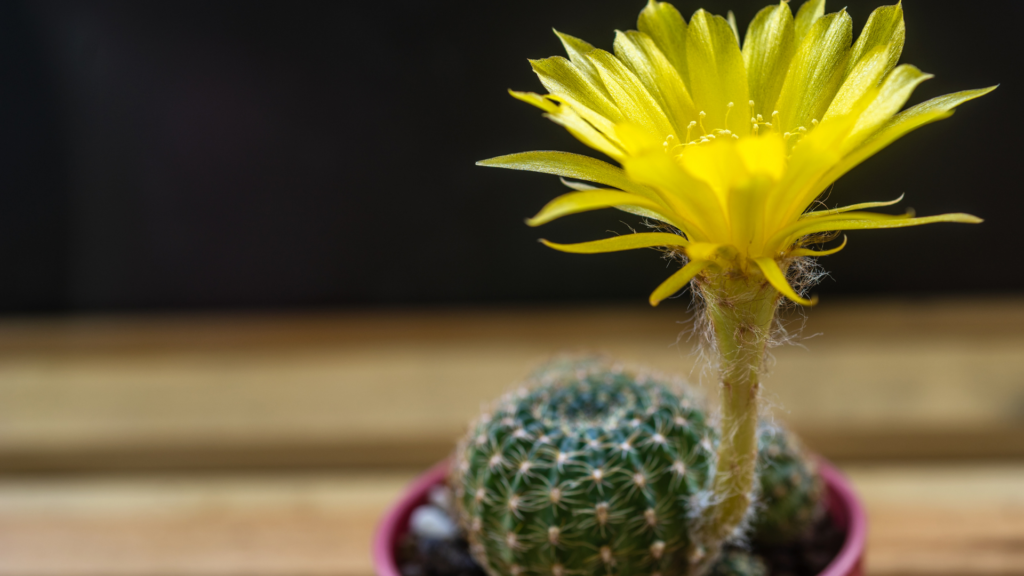 This variety of succulents looks like it was specially designed for Halloween. Its eerie spider web thorns and dark coloring make it the perfect decoration for anyone who loves to go all out for the spooky season.
Although Arachnacantha looks the part, it has one characteristic flaw for fulfilling its creepy calling: it doesn't like cold weather. So, it is possible to use this plant for Halloween decorations, but it should be brought indoors if the temperature dips below freezing.
Growing Tips:
Arachnacantha is an easy-to-grow and care-for plant that is perfect for beginner cacti/succulent owners. It requires full sun to light shade and needs minimal watering. In order to guarantee that it will bloom in the Spring, it should be kept in temperatures lower than 47 degrees Fahrenheit during the Winter.
Interesting Fact(s):
The name of this plant hints at its spidery connection. 'Arachne' is Greek for spider and can be found in the English words, arachnid, and arachnophobia, as well as, the name of this plant.
Pros:
It is drought tolerant
It blooms brilliant colors in Spring and Summer
It is under six inches
It can be propagated by division, by stem cuttings, or by harvesting its seeds
Cons:
It has sharp spines that can poke into the skin
It is not tolerant of frost
Haworthia Marxii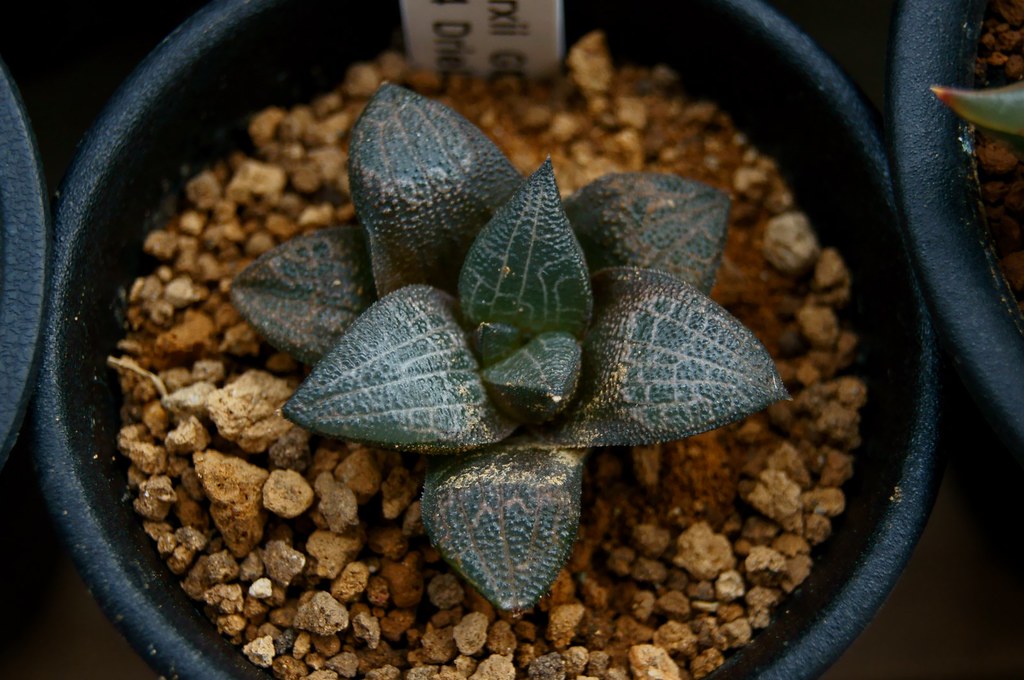 The Haworthia Marxii is a native to the southern African continent and named in honor of the amateur botanist and succulent horticulturist, Gerhard Marx. It took many years to rediscover this succulent in the wild so that it could be studied, but once it was found, it has become a treasure to botanists.
Growing Tips:
It is best to use a cactus or succulent potting mix to grow Hawathoria Marxii well. This is a slow-growing succulent, but it does propagate through division, seeds, and cuttings.
Interesting Fact(s):
The Hawarthia Marxii is different from other succulents in that the plants do not require a lot of direct sunlight.
Pros:
It is a unique and rare succulent that is still being researched
It can grow in low levels of sunlight
It can grow in very rocky terrain
Cons:
It is, in general, a more expensive succulent to purchase
It is a slow grower
Haworthia Nigra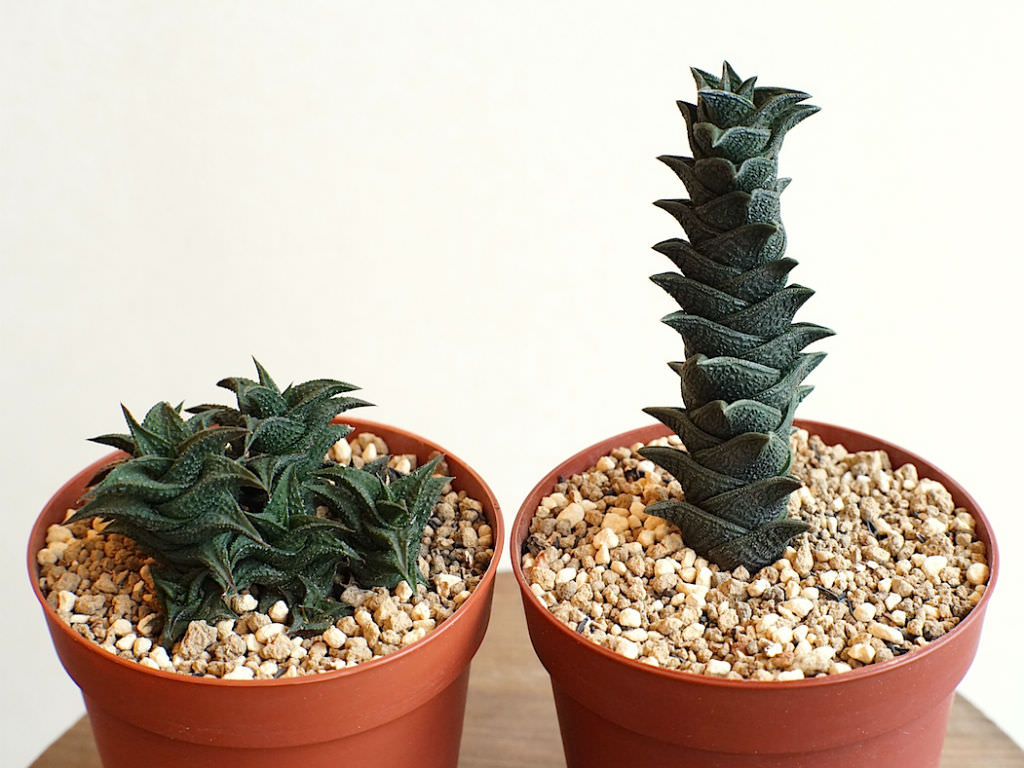 This type of succulent may be the most unique looking on this list. It has long, thick, bumpy, and triangular leaves that grow in an unusual structure that resembles tiered water spickets. The Haworthia Nigra is definitely otherworldly.
Growing Tips:
Keep this succulent in partial to full sunlight and well-drained soil for the best results. It will need extra watering in the warmer months of summer and will need to be brought indoors for the winter unless it is kept in USDA hardiness zones 10a – 11b.
Interesting Fact(s):
These are very tiny succulents that can be kept in fun little containers. Some recommendations are teacups, tea tins, or seashells. Just make sure the container has good drainage.
Pros:
It only grows up to 5 inches tall
It naturally reproduces by dividing itself
It is as easy to grow and care for as an aloe plant
It is easy to replant
Cons:
It can be overwatered
It has a limited range in the USDA hardiness zones where it will thrive outside
It is susceptible to mealybugs
It is susceptible to root rot
Sempervivum 'Black'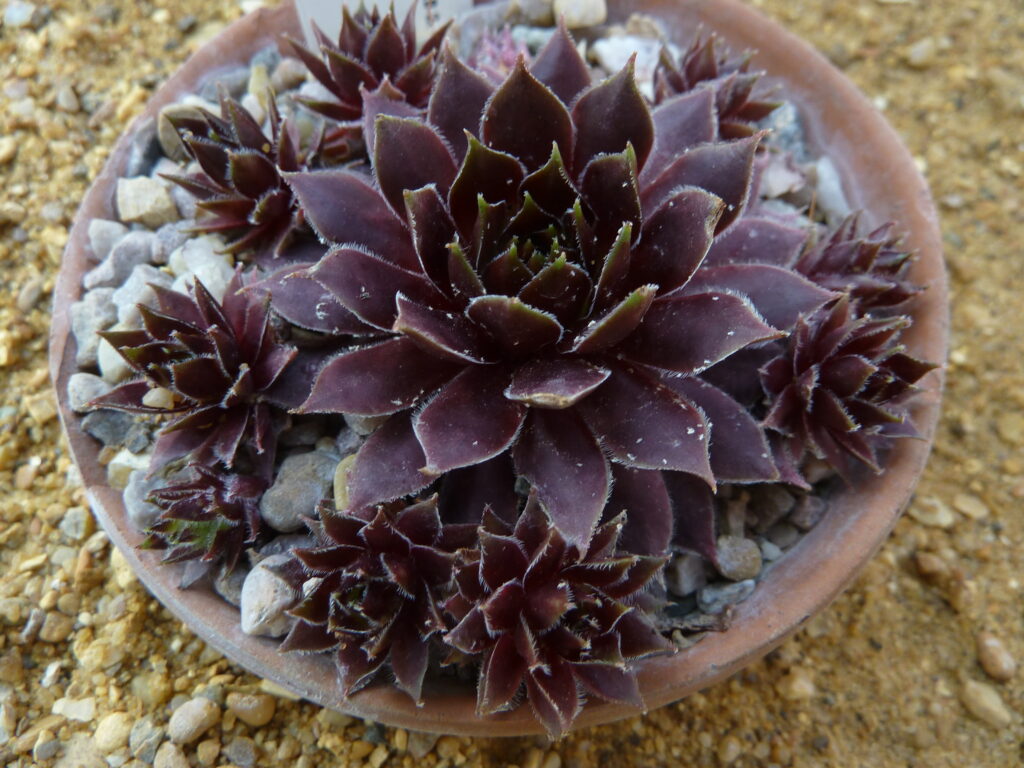 While this particular succulent may not be a true black color, it is so close that it counts. It has gorgeous dark burgundy, almost black, leaves that will cause anyone to want it in their home or garden.
Growing Tips:
Not only is this a breathtakingly beautiful plant, but it is also very hardy and easy to care for. Once it is established, it just needs some well-drained soil and full sun to grow its best. Its lack of care and maintenance means that anyone can be a successful gardener with these plants.
Interesting Fact(s):
Sempervivum is one of those plants that perfectly fill holes in gardens. Put them in cracks in stone walls, place them along the border of flower beds, or let them take over a container. They are going to grow, reproduce, and thrive in any of these places.
Pros:
Tolerates cold weather
Tolerates full sun
Tolerates drought
Tolerates poor soil
Thrives in sandy, rocky, or gravelly soils
Thrives in crowded groups
Resists deer and rabbits
Nearly pest and disease-free
Propagates by division
Reproduces and spreads easily
Produces flowers
Cons:
Dies after it produces flowers
It can get leaf and root rot
Overwatering can kill it
Sinocrassula Yunnanensis 'Chinese Jade'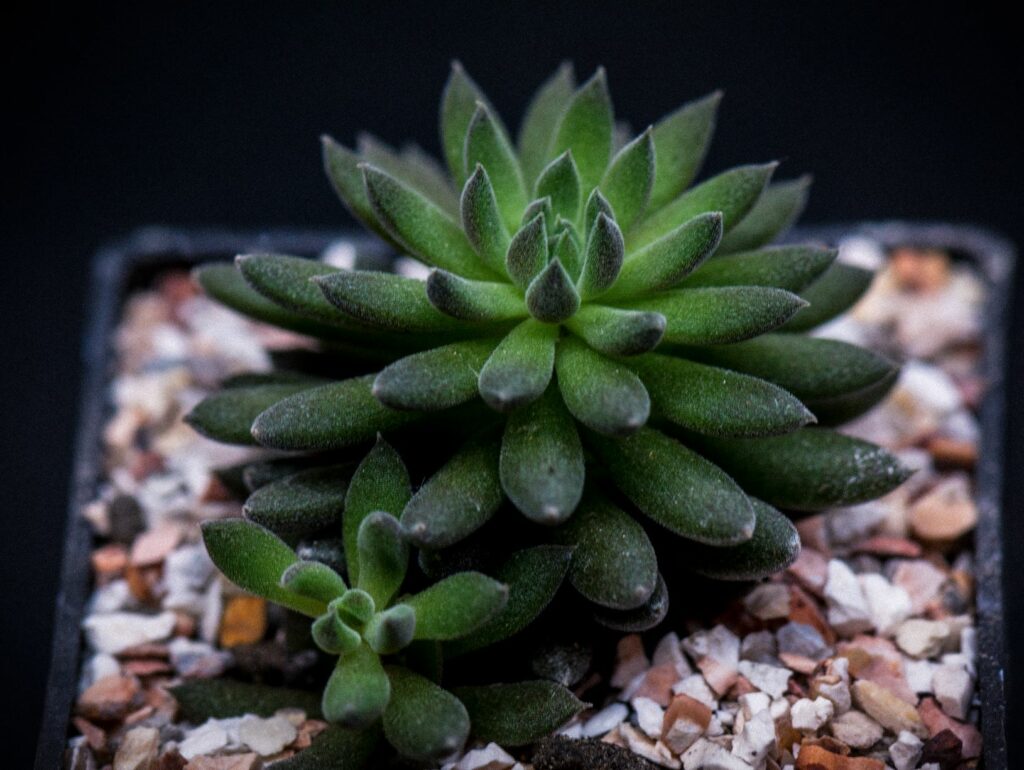 Typically, this variety of succulents is green, but with full sun, it will turn a vivid black color. This is not hurting the plant, it is simply the process of using healthy stress to color the plant. Not only do these succulents have a unique color, but their thick clumps of spiky rosettes are tiny and adorable.
Growing Tips:
Chinese Jade succulents will grow their best when they are planted outside in USDA hardiness zones 7a to 11b. They love warm weather and should be placed in bright sunshine. Since they propagate easily by division, they are easy to grow into a thriving little succulent garden.
Interesting Fact(s):
These succulents are native to the Yunnan province of China, the northern parts of Burma, India, Sumatra, and Bhutan, hence their ability to thrive in many different climates.
Pros:
These are easy to grow and care for
They propagate on their own by division
They can be propagated by using leaf cuttings
They only grow up to four inches long
They produce small white flowers
They are drought tolerant
Cons:
They are susceptible to mealy bugs
They are susceptible to fungal diseases
They can be overwatered easily
How Should Succulents Be Watered?
Since succulents are so susceptible to overwatering it is particularly important to learn what is a balanced way to water these types of plants. Watering succulents sounds like one of the trickiest things for new plant owners. This is because too much water can cause the plant to rot and too little water can cause the plant to dry out.
We need to discover the happy medium of succulent watering so we can have happy little succulents. We need this to be easy to understand and easy to implement. So, with this criterium in mind, let's work through the steps and tips for successful succulent watering.
Take Good Notes
Every time you water your plants, write it down somewhere. Make it easy on yourself by taking good notes about watering times. List out the following information after each watering time:
The date
The amount of water
Which plants you watered
Tip: Get an app on your phone or tablet. There are plenty of apps on Apple or Android that can help you track the care you are giving your plants. Some apps even provide tips for how to care for specific varieties of plants.
Make a Difference
Succulents that are kept indoors or in containers will need a different amount and type of watering system than those succulents that are planted in gardens. Let's talk about the different ways they need to be watered so you will be well prepared for each situation.
Indoor/Potted Succulents:
It is best to water these in a way that doesn't get the leaves wet. The best method for doing this is to set the pot inside a container of water for fifteen minutes, then let them completely drain from the holes in the bottom of the pot. This can be done in a tray, a sink, or a bathtub, whichever is most convenient for you.
Planted Succulents:
Succulents that live in the ground outside obviously cannot be transferred to water baths, so they must be watered differently. The best method for watering planted succulents is to pour water directly onto the soil around the plant and avoid placing water directly on the plant leaves. The soil and air will take care of drying in a natural way.
Tips: Always test the top inch of soil surrounding succulents. If the soil is damp, there is no need to water the plant. Remember overwatering will cause succulents to rot.
Timing Is Everything
How often you water a succulent goes hand in hand with how much you water a succulent. How often succulents need to be watered will depend on the climate in which they are living.
Indoor succulents usually need watering every 14 to 21 days
Outdoor succulents need watering at varying ranges that are dependent upon the seasons, climate, and current weather conditions
Tips: It always best to test the soil surrounding a succulent before watering it. Only water when the soil is dry.
FAQS:
Question: What is a Plant Hardiness Zone?
Answer: The USDA has conveniently listed different growing zones for the entirety of the United States. This is a reference point for gardeners and growers to find out which plants will grow best in the area where they live. The zones are based upon average winter temperatures. Zones are conveniently laid out for easy reference online.
Question: What is the Difference Between Succulents and Cacti?
Answer: These two types of plants seem to always be together. They are often listed together and they are often sold together. Why is this?
The answer to these questions is pretty straightforward. 'Cactus' is a term given to a family of botanicals, while the term 'Succulent' refers to types of plants that are found in several different families of botanicals. Essentially, all cacti are succulents, but some succulents are not cacti because they are in a different botanical family.
Here are some interesting ways cacti and succulents differ from one another:
Cacti do not usually have very many leaves, or any at all; whereas, succulents usually do.
Cacti grow with areoles. These are the bumps that produce the spines or needles that make cacti so treacherous to touch.
Nearly all types of cacti are native to the Americas; whereas, non-cactus succulents are native to many different regions worldwide.
Concluding Thoughts:
Hopefully going through this list of black succulent varieties has given you inspiration for opening your home and garden to new plants. These varieties can bring a symphony of color and texture to a garden or windowsill that is completely unexpected.
Black succulent varieties are versatile and they are beautiful because of this. They express grace with nuanced colors and shapes. They can inspire collectors and decorators to fill space with natural living things.
They can thrill onlookers with their warmth and approachable refinement. At the heart of these succulents is a welcoming hug for everyone. Anyone can get one; anyone can give one; anyone can grow one.
Read and learn more about succulents below: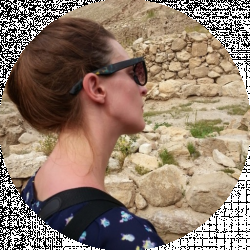 Latest posts by Shaleena Quinlan
(see all)